Is a mechanical test system for testing materials and
product designs for quality control applications?
We offer an affordable compact mechanic testing machine
for tests on materials and products with smaller forces :
Force:   3 kN
Movement: 500mm
This universal machine can be used standalone or with a computer.
All measuring data can be transferred by using a serial standard interface (RS 232) to a PC.
This machine comes complete with one load cell and a control software
 for Windows.
Typical test materials and products to be tested are
biomaterials, tissues, medical devices,
components (wire, tubing and needles)
electronic components, connectors, insertion tests
Films, adhesive tapes, foils, magnetic tape
Plastics, polymers, nylon, acetyls
Elastomers, rubber, foam, latex compounds
automotive components, interior structures, foams
Packaging materials such as paper, cardboard, wood
cords and textiles, yarn, strings & threads, fabrics
racquet strings, thin cables, composite fibers
shingles and construction materials
Show this page in German!     
<![if !supportLineBreakNewLine]>
<![endif]>

Compact affordable and complete!

<![if !vml]>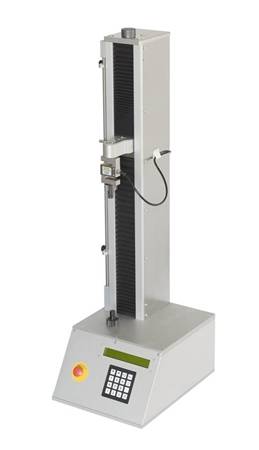 <![endif]>
<![if !supportLineBreakNewLine]>
<![endif]>